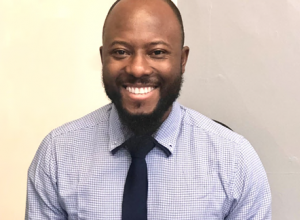 Local Consumer Program Consumer Advocate
Meet Claudel! Claudel has been with us at the Family Center in various roles for some time. Claudel is one of our Local Consumer Advocates. He works closely with Jackie in connection with the Massachusetts Attorney General's Office to help consumers who have experienced problems with purchases either receive refunds or exchanges in response to poor service or item quality. Claudel speaks English and Haitian Creole. He also understands but is not fluent in French.  
Claudel has been in the Human Services industry since he was 14 ½ years old. He has worked in various capacities including but not limited to advocacy, clinical work, consultant work, and translating. Claudel believes the Family Center is unique because of its staff's abilities to connect with each other and work as a team, as well as the connection we share with the community and the supports we are able to provide to our clients. The Family Center feels like a second family! 
Ideally, Claudel would like to create a world that grants full access to resources for all communities in need, that focuses on fostering independency rather than creating dependency. Claudel enjoys being around people and making people laugh. In his free time, Claudel enjoys photography, reading and researching. Some of Claudel's favorite activities include coaching and playing soccer, going to the gym, going for walks, and also running. Claudel also has a special interest in life coaching.