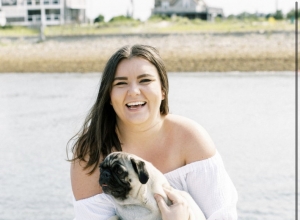 School Liaison
Meet our School Liaison, Leighann Healy! Leighann started with us during August of 2022 and will be working with Family Center staff and public schools throughout Plymouth County to bridge the gap between education and parenting. Leighann chose this position because she wanted to make a more noticeable impact on her community and its members. Leighann really enjoys the ever-changing needs of her position. She also loves that she interacts directly with the community and the individuals the Family Center Serves.  
Leighann believes the Family Center is different from other service agencies because the Family Center and its employees are committed to providing quality support and assistance to the community and truly care about the well-being of the people served.  
Leighann grew up in Abington. She has experience working with adults and children with disabilities as a paraprofessional in schools as well as day programs. Leighann has her Bachelor's Degree in Psychology from the University of Rhode Island and is currently studying towards her Master's in Mental Health Counseling at Bridgewater State University.  
If Leighann could do something to make a big, positive change in the world, it would be to combat and conquer food insecurity in the United States. Leighann feels as if she truly made a difference while working as a paraprofessional in Holbrooke Middle School. On one occasion, she created student superlatives that she distributed on the last day of school. By giving each student recognition, she was able to impact the way they viewed their own work and achievements. She was also able to positively recognize their personality traits that made them unique. "Middle School can be a challenging time for adolescents to discover and appreciate their individuality." 
In her free time, Leighann enjoys being creative. Her main outlet is music. She loves to sing and spends most of her time on the weekends listening to live music at concerts and festivals. She is thrilled to journey on this new adventure!