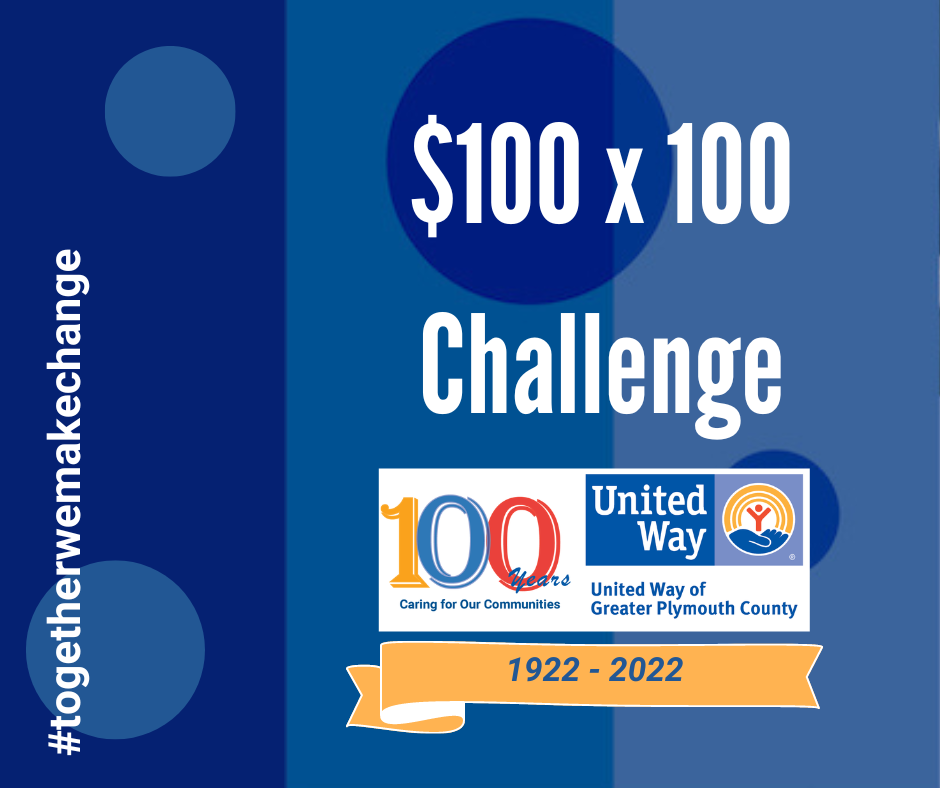 We all understand that it's been a tough few years. Many individuals and families are struggling daily- paying the weekly grocery store bill, making up for the learning lost during pandemic school interruptions, recovering from natural and man-made disasters. Our communities are fractured by partisan politics and pandemic fueled isolation. We've seen nearly 11,000 calls to Mass 2-1-1, United Way's statewide information and referral line in our 22 town service area so far this year.
But we know individuals can change the world. They don't need to be powerful CEOs or elected officials. They don't even need to be adults! Just think about Malala Yousafzai and the change she's made in the world through her advocacy for education for girls. That's United Way's sweet spot. Our superpower is bringing individuals together to make positive, lasting change. For example, here in the Greater Plymouth County, our United Way this year has helped 57,626 neighbors. This includes 78,906 meals distributed to feed those experiencing food insecurity, 4,911 people accessing affordable housing and other living services, and 2,315 children receiving literacy support leading to greater success at school during 2022! 
With our partners, experts, community leaders and residents, United Way looks at the toughest problems, and is thoughtful about local solutions that work best in our community. United Way of Greater Plymouth County makes it easy for you to take meaningful action that makes a difference. That can be volunteer tutoring at one of our partner agencies that helps struggling kids shift the odds, like the Boys & Girls Club of Metro South. Or speaking up for more support for single moms at Health Imperatives. Or investing in solutions that are showing results like United Way supporting the Helpline at BAMSI or Pathways to Good Health & Stable Housing at Father Bill's & MainSpring.  
And we *are* seeing positive results. Here in Greater Plymouth County, over the last year, United Way and the donors, volunteers and advocates who've joined us have made a difference. Consider: 
• 44 adolescents were positively impacted through college-preparation programs  
• Since January, residents in our service area saved $509,082 on their prescriptions through our partnership with SingleCare 
• 25 people were helped with financial education, literacy, coaching or other service to receive a job 
Positive change is happening. But it doesn't "just happen."
Change is created together.  
And we're in it together. Just think of "Marissa", a participant in a United Way funded arts program that works in the classroom to help strengthen pre-literacy skills among preschool and kindergarten students.  Her teacher shared "she walked into the classroom after having to relocate, scared and unsure of her new school. Everyone has been friends for four months already. Will she fit in? Will she get along with anyone?" Marissa spent her first week sitting in silence and completing all her work quickly and accurately. At recess, she would just walk around by herself watching others play. When spoken to, she would answer in a low whisper.  As soon as ImagineARTS began, Marissa's face lit up and she recognized the instructor from her former school. As a result, she knew the routine, remembered the songs, and joined right in. The other students quickly noticed Marissa's excitement and started smiling and laughing with her as they danced and sang along with. The next morning, several students greeted her with hugs and smiles. At recess, a few of the classmates went out of their way to include Marissa. As the year continued, her confidence grew. She continued to play with more friends, sang louder and louder. As the school year closed, she was speaking up all the time, laughing out loud, completing all her assignments quickly, and answers questions so everyone can hear her. This confidence will follow her as she moves onto first grade and beyond. 
Like you, we want Greater Plymouth County to be a resilient, equitable community that offers opportunities for *everyone* to thrive. We can make it happen, together.  
People like you are the ones who make change happen. Start today in your community.
Beginning on #GivingTuesday and ending at midnight on December 31st, we will be running our $100 x 100 Challenge. We are looking for 100 donors to each donate $100 to raise $10,000 to help everyone thrive. (Any amount welcome- no gift is too small!)
Let's end our 100th year caring for our communities together with a bang. Will you join us?
Thank you.
Dennis P. Carman
President & CEO
United Way of Greater Plymouth County