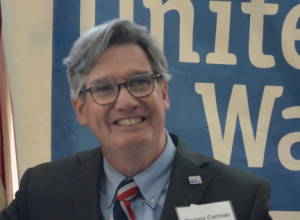 President & CEO
508-583-6306 ext. 205
Dennis Carman has been serving as the President & CEO of the United Way of Greater Plymouth County since March 2006.
Before being recruited to United Way, Mr. Carman served for twelve years as the Executive Director of the MainSpring Coalition for the Homeless based in Brockton providing emergency shelter and transitional services for homeless families and single adults.  
Prior to his work at MainSpring, Mr. Carman served for three years as the Executive Director of the Anchor House in Plymouth, a long term residential substance abuse treatment program for men.  Mr. Carman also worked as a Program Director, Site Director and ultimately the Assistant Executive Director of Addictions, Families and Recovery, Inc., an outpatient substance abuse counseling agency in Plymouth and Wareham.  Mr. Carman's first post graduate school position Evaluator/Instructor of the First Offender Drinking Driver Program at Old Colony Catholic Charities in Brockton, MA.
Mr. Carman was awarded a full fellowship to the Ohio State University where he earned both a Master's Degree in Social Work and a Master's Degree of Arts in Public Administration.  He was also awarded the Social Work Student of the Year from the Ohio State University's College of Social Work in 1984.   Mr. Carman earned a Bachelor's Degree of Arts graduating magna cum laud in 1982 from Stonehill College.  Mr. Carman graduated from Notre Dame High School in West Haven CT in 1978.  He was awarded Notre Dame's Social Services Medal.
As part of his current work at the United Way, Mr. Carman serves on a number of boards and community coalitions, including serving as Vice Chair of the Council of Massachusetts United Ways, Board Member of the Massachusetts Nonprofit Network, Co-chair of the South Shore Regional Network to End Homelessness, Deacon & Prudential Committee Member of Silver Lake Chapel in Plympton, MA, Past President of Rotary Club of Plymouth and Town Moderator for Halifax, MA..  
Mr. Carman enjoys music, plays the guitar and sings with his friend and musical partner, Allan Palmer, for the past 25 years.  He also enjoys reading a variety of books, including science fiction short stories and biographies of U. S. Presidents.
Mr. Carman, his wife, Theresa met at Stonehill College and have been married for 38 years.  They have four children, Jacquelin, Benjamin, Christina and David.  They have been residents of the town of Halifax, MA for the past 35 years.