Contact Person:
Dennis Carman, President  & CEO
United Way of Greater Plymouth County
934 West Chestnut Street
Brockton, MA 02301
508 583-6306 ext. 105
FOR IMMEDIATE RELEASE
9/28/21
Local Community Celebrates United Way's 100th Annual Campaign Kick-Off & Blood Drive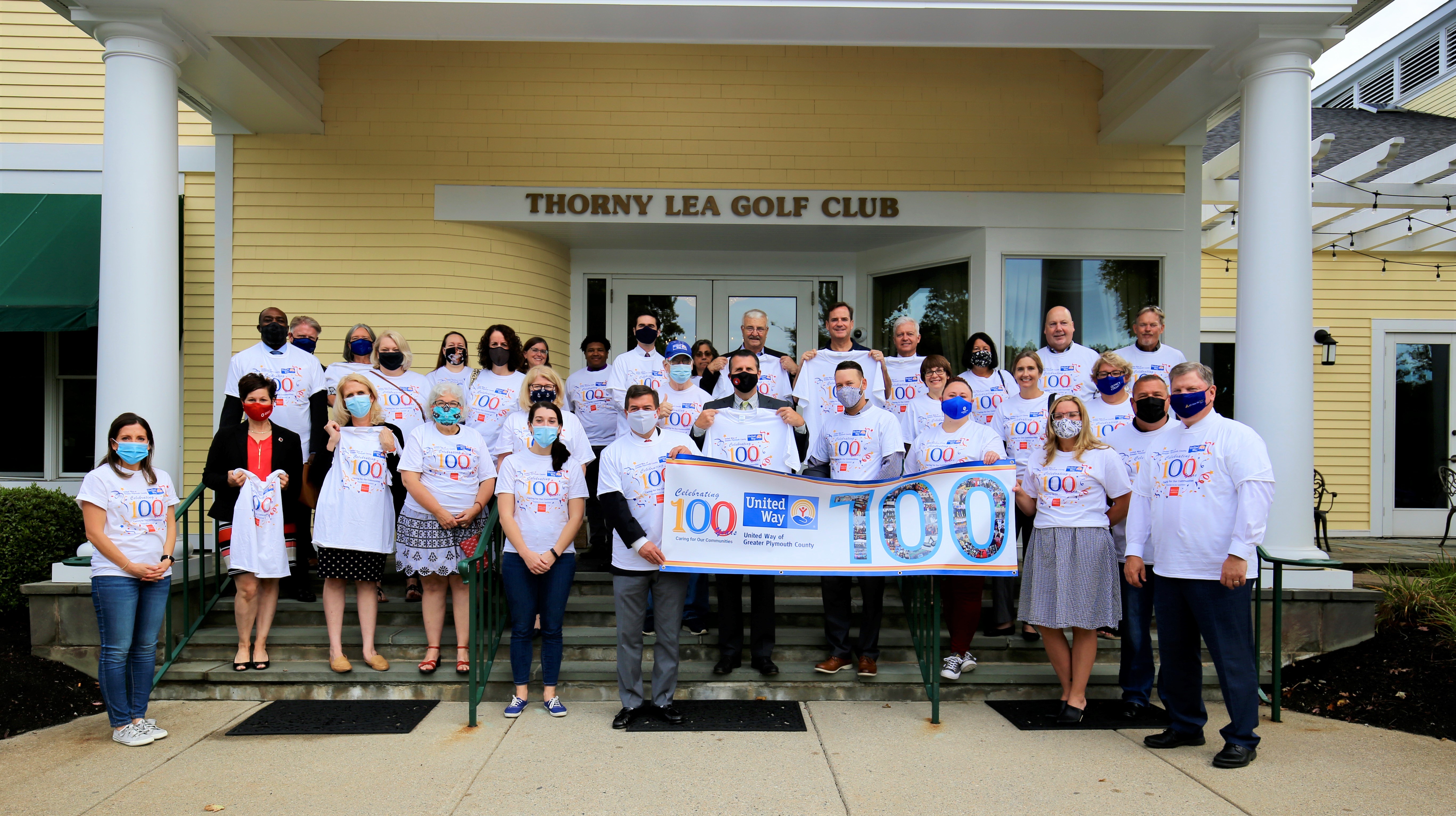 Caption: Kick-Off attendees gather in United Way 100th anniversary shirts at the event at Thorny Lea Clubhouse in Brockton, MA 
Brockton, MA – On the morning of September 23rd, United Way of Greater Plymouth County gathered in Thorny Lea's ballroom to celebrate the official kick off of its 100th campaign.  Over 40 United Way volunteers, friends, board members, and partner agencies dressed in United Way t-shirts to show their support and to give back to the local community with a blood drive in partnership with the American Red Cross of Southeastern MA.  The event was sponsored by Wells Fargo Advisors.  
"Our United Way of Greater Plymouth County's annual Kick Off & Day of Caring is one of my favorite days of the year." said United Way President & CEO Dennis Carman.  "We held the event virtually last year due to the pandemic and it is terrific to get to see many of our friends and supporters in person today for perhaps our most important kick off to date: the start of our 100th year!" 
The kick-off event program was led by United Way's 100th anniversary campaign co-chairs William B. McCann, Senior Vice President, Branch Manager of Wells Fargo Advisors and Scott Sanborn, Executive Vice President,
Chief Lending Officer of HarborOne Bank.  They shared ways the community can help United Way celebrate through creative ideas for donating and volunteering.  Information was also shared on United Way's collective impact.  Last year, United Way served 60,719 individuals in its 22 town service area.  
Following the Kick-Off, 36 community members donated the gift of blood to the American Red Cross of Southeastern MA to help meet the critical need for blood at this time.  Seven individuals volunteered their time to help with the organization of the blood drive.  
"There is currently an emergency shortage of blood in our community and nationwide," said Barbara Cotton, Executive Director of the American Red Cross of Southeastern MA.  "We rely on our neighbors to donate blood and we all know someone who is in need.  Our tagline for this partnership with United Way is 'United, We Save Lives' and it could not be more true.  Each pint of blood can help up to three people!" 
United Way of Greater Plymouth County also collected bedtime bags at the event.  Bedtime bags consist of a bag for a child in need with a book, a stuffed animal, and a pair of pajamas.  
To learn how you can help support United Way of Greater Plymouth County in its 100th year of caring for our communities, please visit www.uwgpc.org/100.  To see more event photos, please visit United Way of Greater Plymouth County's Facebook page at www.facebook.com/uwgpc.   United Way and the Red Cross will be offering more opportunities to donate blood in its 100th year.  To find a drive near you today, visit www.redcrossblood.org. 
###
About United Way of Greater Plymouth County
Established in 1922, United Way of Greater Plymouth County's mission is "We unite people, ideas and resources to improve lives and to build a stronger community."  United Way envisions a "safe, healthy, diverse and welcoming community where everyone's needs are met equitably, respectfully and compassionately" by focusing its resources on addressing the vital and interconnected needs of education, health and financial stability.  United Way serves the communities of southeastern Massachusetts, including the city of Brockton and the towns of Abington, Avon, Bridgewater, Carver, Duxbury, East Bridgewater, Easton, Halifax, Hanover, Hanson, Kingston, Lakeville, Marshfield, Middleboro, Pembroke, Plymouth, Plympton, Rockland, Stoughton, West Bridgewater, and Whitman.