Contact Person:
Dennis Carman, President & CEO
United Way of Greater Plymouth County
934 West Chestnut Street
Brockton, MA 02301
508-583-6306 ext. 105
FOR IMMEDIATE RELEASE
March 24, 2021
United Way Awarded $25,000 Project Bread Community Partnership Grant 
Grant Will Expand Local Food Insecurity Systemic Efforts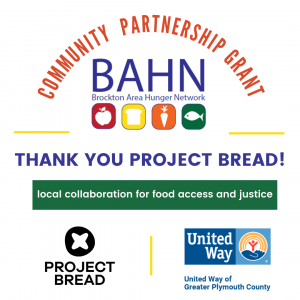 BROCKTON, MA - United Way of Greater Plymouth County (UWGPC) is honored to serve as the lead agency in Brockton awarded a Project Bread Community Partnership Grant.  The $25,000 grant funds will be used in partnership with Catholic Charities South, The Charity Guild, Brockton Neighborhood Health Center, and Stonehill College to expand and enhance a local coalition comprised of food pantries, education institutions, faith-based organizations, local agencies fighting food insecurity, and the Brockton Mayor's office called the Brockton Area Hunger Network (BAHN).  
BAHN has been in existence for over two decades and meets each month on the first Wednesday at 9:00AM to discuss the latest work related to hunger in the city of Brockton and its surrounding towns.  The group regularly shares pantry updates, opportunities to collaborate, challenges to overcome, and efficiencies to achieve.  Representatives from the Greater Boston Food Bank and Project Bread attend the meetings as well to provide regional information.  A portion of funding will be used for data collection and analysis of local food insecurity demographics, barriers to access, and systemic community needs.  
"We are excited to expand the incredible work of the Brockton Area Hunger Network by building capacity through this Project Bread grant," said United Way of Greater Plymouth County President & CEO, Dennis Carman.  "Together, we can take a closer look at the root causes of food insecurity and inequality in our communities and develop systemic solutions to best serve our neighbors!"
Food insecurity is a condition arising from economic inequities and it disproportionally impacts black and brown communities. Project Bread created this grant opportunity to support and learn from community partners steeped in food access and food justice with a goal of learning more about local systemic issues, responding to critical community needs, and lifting up local solutions.
In total, 11 Project Bread Community Partnership grants were given out to Massachusetts to communities with significant food insecure populations: Brockton, East Boston, Everett, Holyoke, Lawrenece, Lynn, Mattapan, Quincy, Randolph, and two partnerships in Worcester.
Project Bread's Foodsource Hotline offers food assistance in 180 languages and serves all of Massachusetts.  One of the main resources provided by the hotline is local food pantry information for individuals and families experiencing food insecurity.  It may be accessed via 1-800-645-8333 with hours Monday – Friday from 8am – 7pm and Saturday from 10am – 2pm.  There is also an online chat feature which can be accessed via www.projectbread.org/get-help.  
To learn more about the Brockton Area Hunger Network, contact Dennis Carman at 508-583-6306 extension 105 or dcarman@uwgpc.org.  The group is eager to expand its membership and welcomes local organizations to join. 
###
About United Way of Greater Plymouth County
Established in 1922, United Way of Greater Plymouth County's mission is "We unite people, ideas and resources to improve the lives of people in Greater Plymouth County."  United Way envisions a "a safe, healthy and well-educated community in which people's needs are met effectively, respectfully and compassionately" by focusing its resources on addressing the vital and interconnected needs of education, health and income.  United Way serves the communities of southeastern Massachusetts, including the city of Brockton and the towns of Abington, Avon, Bridgewater, Carver, Duxbury, East Bridgewater, Easton, Halifax, Hanover, Hanson, Kingston, Lakeville, Marshfield, Middleboro, Pembroke, Plymouth, Plympton, Rockland, Stoughton, West Bridgewater, and Whitman.