Contact Person:
Dennis Carman, President & CEO
United Way of Greater Plymouth County
934 West Chestnut Street
Brockton, MA 02301
508 583-6306 ext. 105
FOR IMMEDIATE RELEASE
6/18/21
United Way Brings Community Together Virtually 
to Celebrate its 99th Annual Meeting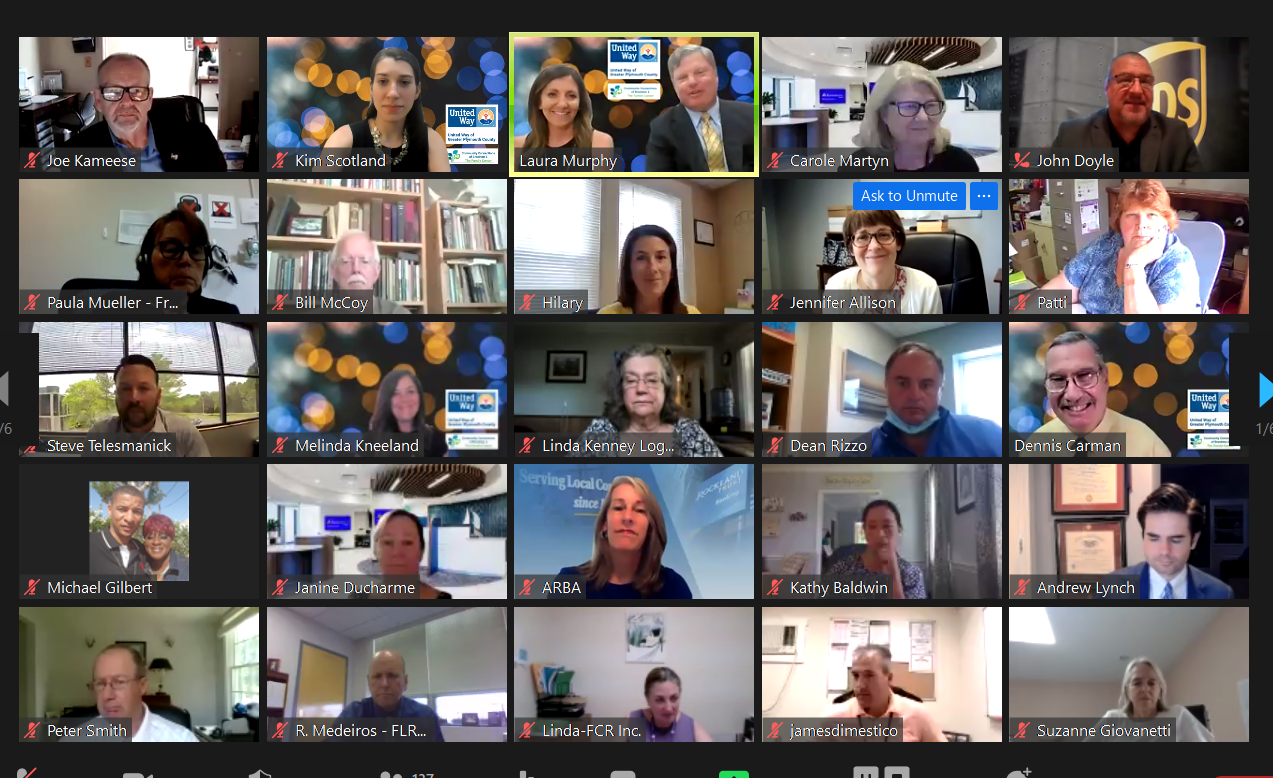 Caption: United Way 99th Annual Meeting Zoom Screenshot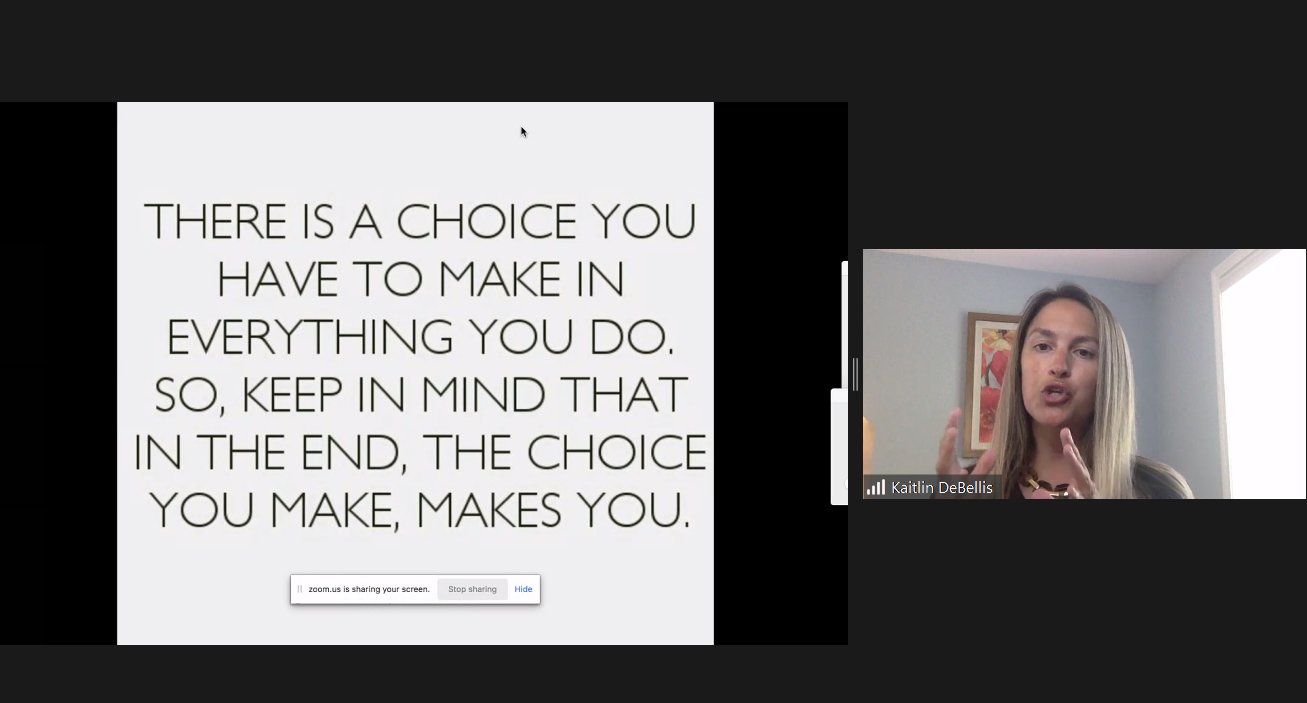 Caption: United Way 99th Annual Meeting Keynote Speaker Kaitlin Roig Debellis, Former Sandy Hook Elementary Teacher, Founder Classes4Classes, Author of Choosing Hope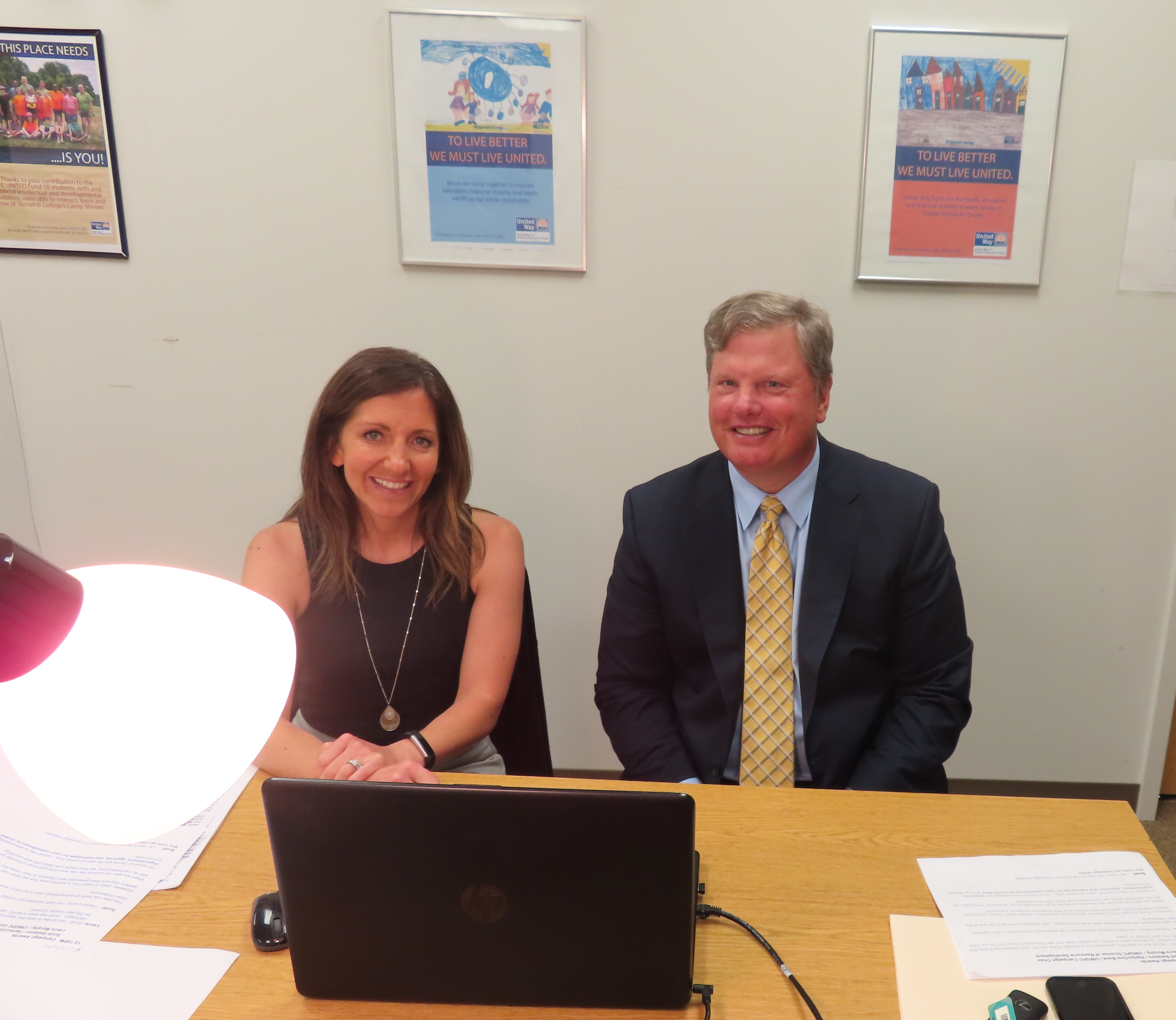 Caption: United Way Director of Resource Development, Laura Murphy, and United Way Campaign Chair, Scott Sanborn's "studio" for the live Zoom event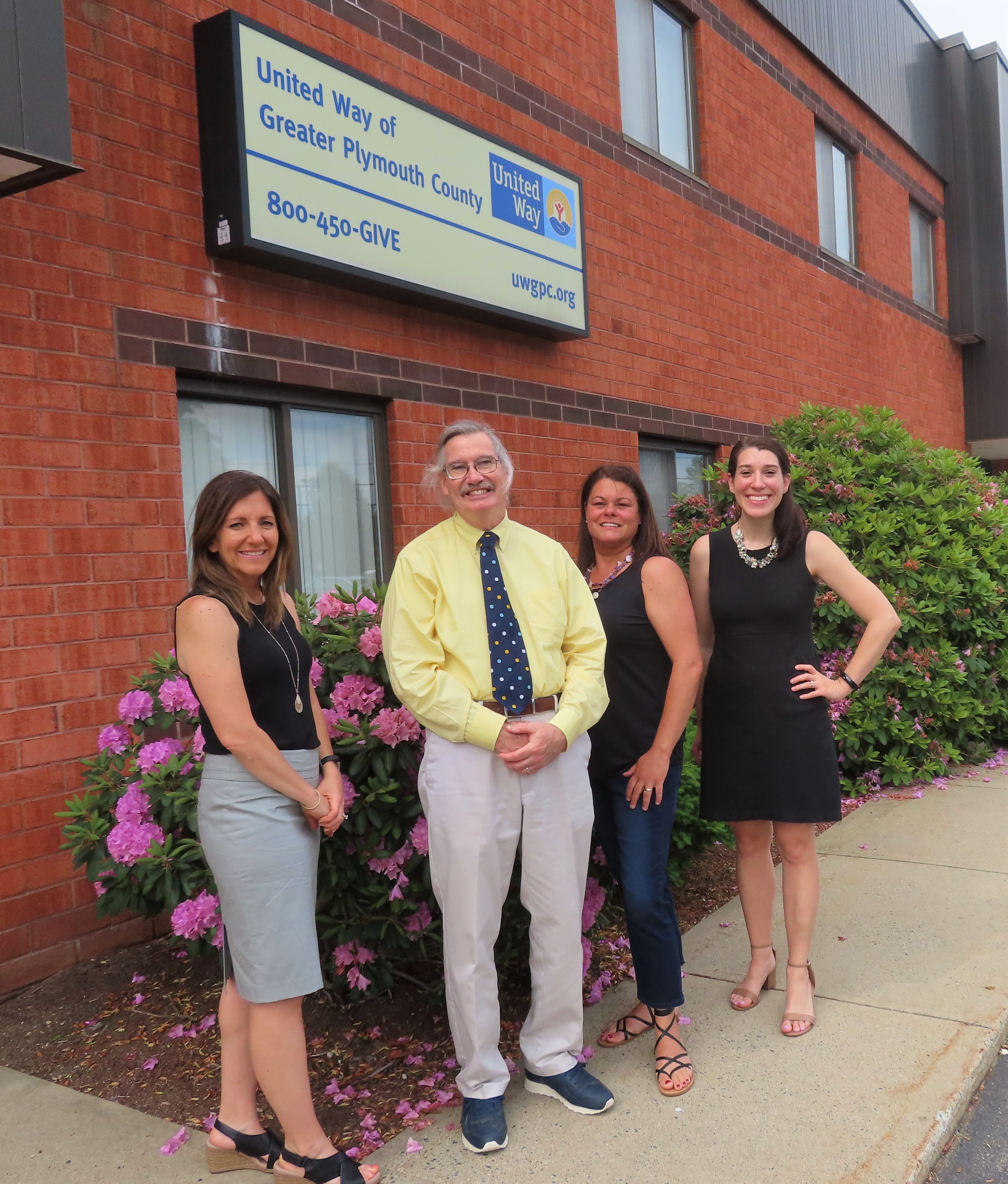 Caption: Members of United Way Staff on the morning of the event
L to R: Laura Murphy, Director of Resource Development; Dennis Carman, President & CEO; Darby Perkins, HR & Finance Admin; Kim Scotland, Director of Community Relations & Marketing
BROCKTON- On June 9th, over 140 guests gathered virtually for United Way of Greater Plymouth County's 99th Annual Meeting & Awards Celebration.
"We knew that it would be challenging for us to safely meet in person for this year's event due to COVID-19, but felt it was very important that we come together as we do each year to share an uplifting program in line with this year's theme of ''Bright Spots'" Dennis Carman, President & CEO of United Way of Greater Plymouth County said.  "We were extremely grateful to get to honor some of our community's bright spots this past year and are appreciative of the unwavering support and unity of our community during this unique and difficult time.   We are thrilled to celebrate the work of our 99th year of uniting people, ideas and resources to improve the lives of people in Greater Plymouth County, and look forward to working together with our partners during the coming year to tackle our community's urgent needs as we continue our work on long-term rebuilding.  United, we recover." 
This year's event sponsors were HarborOne Bank in the category of Feeding Our Families; Lynch & Lynch  in the category of Preventing Evictions and Ending Homelessness; National Grid in the category Returning to Learning;  Good Samaritan Medical Center in the category of Access to Affordable Health Services; Bluestone Bank in the category of Aspiring to Hire; and Rockland Trust in the category of Diversity, Equity, and Inclusion. 
Our Keynote Speaker was Kaitlin Roig DeBellis, former Sandy Hook Elementary Teacher, founder of Classes4Classes, and author of Choosing Hope.  Kaitlin shared her inspiring and heart-warming story and left the audience with the important message of always choosing hope. 
United Way's 99th Annual Meeting was also a celebration of this year's United Way campaign to raise funds for critical local needs.  Bluestone Bank received the Circle of Caring Chairman's Award for its success in making a significant contribution to the LIVE UNITED  Recovery Fund, undesignated funds given to our local United Way so that volunteers from our community can distribute them to meet the most urgent needs.  
Other Circle of Caring Awardees were to Rockland Trust for largest campaign increase and largest employee campaign, HarborOne Bank for largest campaign increase to the LIVE UNITED Recovery Fund and for largest corporate gift, and In Good Health for Corporate Champion for Change.  
Leigh Lopes of BAMSI and Joanne Hoops of Family & Community Resources received awards in recognition of their significant contributions to the United Way campaign at their respective organizations.
Community Impact Bright Spot Awards were given to four local school personnel for their tireless and extraordinary efforts for our students during the pandemic.  Awards were given to Clare Grenon, Lead Nurse, Bridgewater Raynham Regional School District, Megan Hokanson, Kindergarten Teacher at Manomet Elementary School, Paula Mueller, Lead Nurse Freetown Lakeville Regional School District, Plymouth Public Schools, and Kenneth Thompson, Director of Facilities, Brockton Public Schools.   
In recognition of their inspirational volunteering for the community Dr. Michael Dern, Francis J. (Jay) Lynch III, and Benita Smith, received United Way's Community Spirit Award for 2021.
The event recording and photos will be shared on United Way's Facebook page www.facebook.com/uwgpc.
####
About United Way of Greater Plymouth County
Established in 1922, United Way of Greater Plymouth County's mission is "We unite people, ideas and resources to improve the lives of people in Greater Plymouth County."  Our efforts are instrumental in making Greater Plymouth County a safe, healthy, and well-educated community in which people's needs are met effectively, respectfully, and compassionately by focusing our resources on addressing the vital and interconnected needs of education, health, and income.  United Way serves the communities of southeastern Massachusetts, including the city of Brockton and the towns of Abington, Avon, Bridgewater, Carver, Duxbury, East Bridgewater, Easton, Halifax, Hanover, Hanson, Kingston, Lakeville, Marshfield, Middleboro, Pembroke, Plymouth, Plympton, Rockland, Stoughton, West Bridgewater, and Whitman.