Contact Person:
Dennis Carman, President & CEO
United Way of Greater Plymouth County
934 West Chestnut Street
Brockton, MA 02301
508 583-6306 ext. 205
FOR IMMEDIATE RELEASE
6/20/23
United Way Gathers Community to Celebrate its 101st Annual Meeting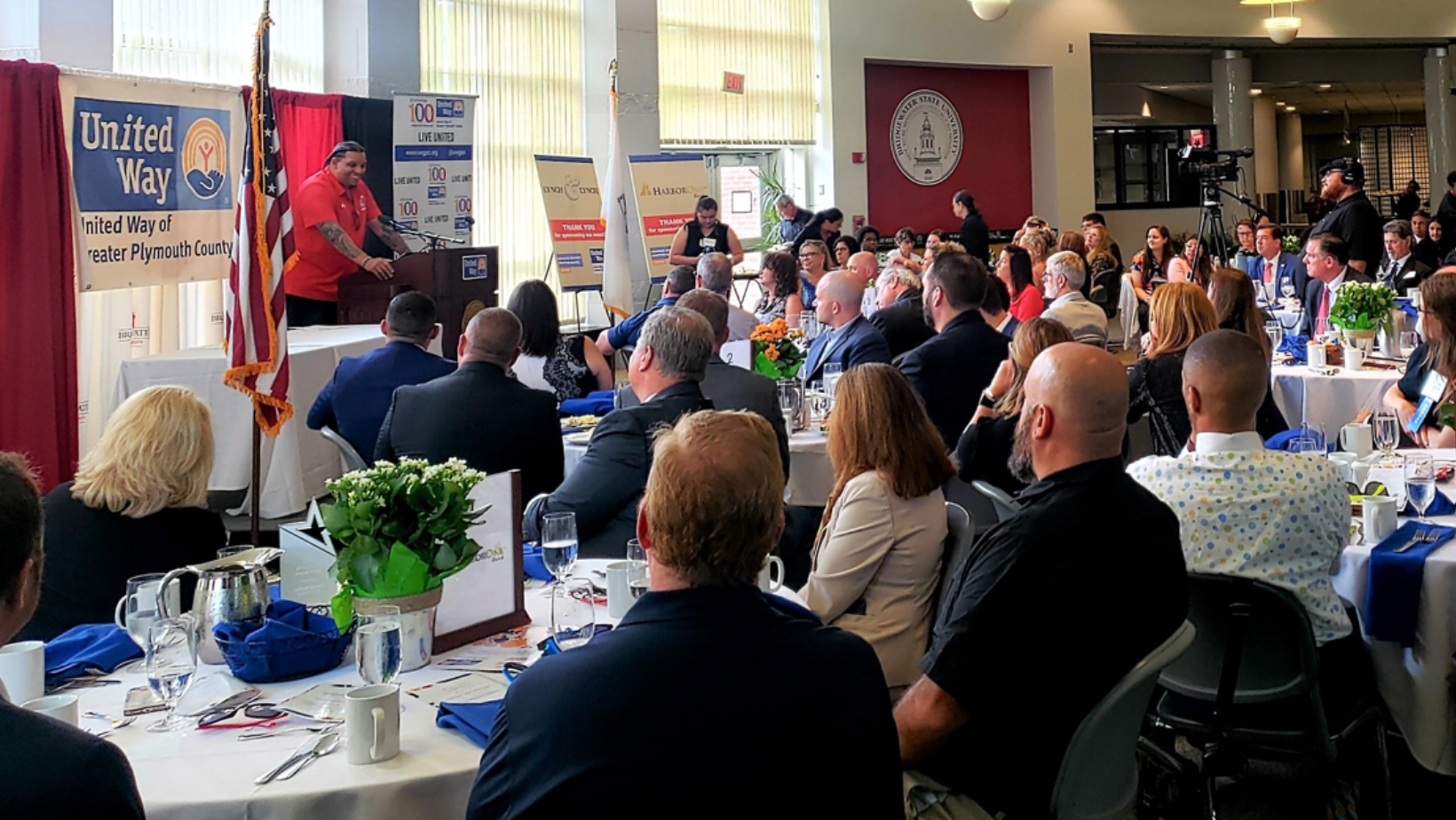 200 guests attend United Way of Greater Plymouth County's 100th Annual Meeting at Bridgewater State University
 
BRIDGEWATER- On June 15th, 200 guests gathered for United Way of Greater Plymouth County's 101st Annual Meeting & Awards Celebration at Bridgewater State University.  LIVE UNITED sponsors were HarborOne Bank, Lynch & Lynch, National Grid, UPS, and Bridgewater State University. 
"We leap into our second century of caring for our communities with renewed excitement!" Dennis Carman, President & CEO of United Way of Greater Plymouth County said. "It means a great deal to us to get to celebrate the outstanding organizations and companies in our community in our 101st year of uniting people, ideas and resources to improve the lives of people to build a stronger community.  Together, we can advance economic opportunities for all." 
The event's keynote address was delivered by Jermaine Wiggins, celebrated NFL Tight End & Super Bowl Champion, Sports Talk Radio Co-host on WEEI 93.7 FM The Greg Hill Show, and new Brockton High Football Coach.  He spoke about "Winning the United Way", the importance of teamwork, and how his youth and role models helped shape him into the person he is today stating "It only takes one person to make a difference in the lives of many".
United Way's 101st Annual Meeting was also a celebration of this year's United Way campaign to raise funds for urgent local needs.  REXA received the Exemplary Corporate Campaign Award for going above and beyond with every aspect of their United Way campaign.  Road to Responsibility received an award for Most Improved Partner Agency Campaign.   Jackson & Irene Golden 1989 Charitable Trust received an award for the Leading Foundation Supporter.  HarborOne Bank and Rockland Trust received distinguished Corporate Champions Through the Decades awards for over $2 million in lifelong gifts to United Way of Greater Plymouth County. 
Community Spirit Awards were given to United Way Board Members Andrew Lynch, Carole Martyn, and Joe Kameese for each serving tirelessly during the pandemic as Board officers.  These awardees now join the United Way Hall of Fame.
Marie Kelly of Stonehill College was recognized for her service to United Way as she completed her second three-year term as a Board Member.  Mark Linde, Community Representative from Bridgewater, MA renewed for his second term. Ashleigh Cummins of Bluestone Bank and Jaqueline Sullivan Gosciak, Community Representative from Easton, MA were announced as new members joining the Board of Directors.
The Profile in Courage Award was given to Muchielly Ameen and Cody Francois, mother and son served by United Way's Family Center Child Requiring Assistance program, in recognition of their demonstrated courage in overcoming life's difficulties.  
Community Impact Awards were given in the category of education to Bridgewater State University, of health to Signature Healthcare, and of financial stability to Father Bill's & Mainspring for making a tremendous difference in the community through creative programming and partnerships. 
 To see the event gallery of photos, please visit www.facebook.com/uwgpc.  To learn more about how you can support United Way visit www.uwgpc.org.
 
###
About United Way of Greater Plymouth County
Established in 1922, United Way of Greater Plymouth County's mission is "We unite people, ideas and resources to improve the lives of people in Greater Plymouth County to build a stronger community."  United Way envisions a "a safe, healthy, diverse and welcoming community where everyone's needs are met equitably, respectfully and compassionately" by focusing its resources on addressing the vital and interconnected needs of education, health, and financial stability.  United Way serves the communities of southeastern Massachusetts, including the city of Brockton and the towns of Abington, Avon, Bridgewater, Carver, Duxbury, East Bridgewater, Easton, Halifax, Hanover, Hanson, Kingston, Lakeville, Marshfield, Middleboro, Pembroke, Plymouth, Plympton, Rockland, Stoughton, West Bridgewater, and Whitman.