​Contact Person:
Kim Allen, Director of Community Relations & Marketing
United Way of Greater Plymouth County
934 West Chestnut Street
Brockton, MA 02301
508-583-6306 ext. 106
 
FOR IMMEDIATE RELEASE
1/31/2018
 
 
United Way of Greater Plymouth County Announces Enhanced Features for Free Online Tax Filing Tool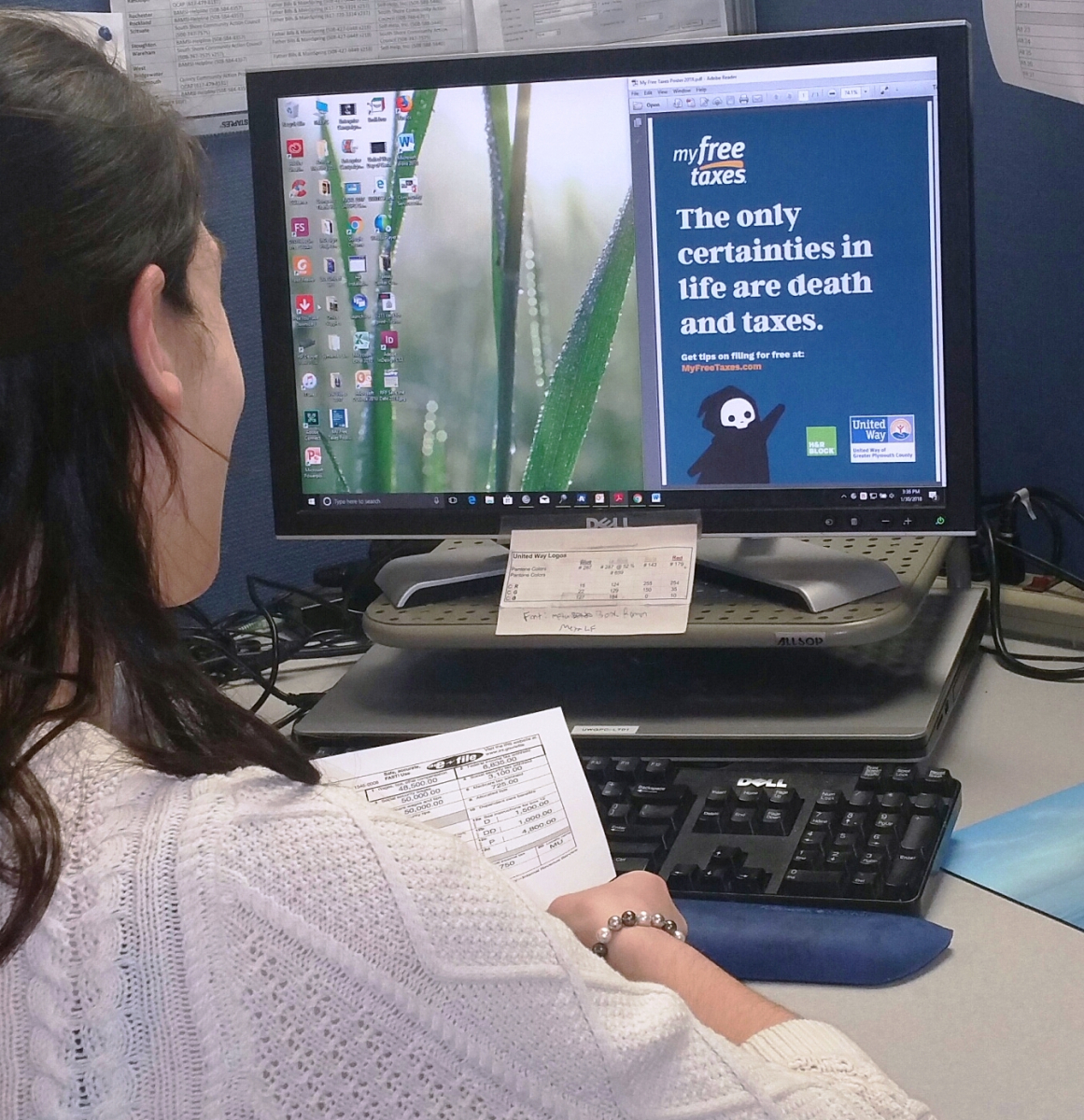 Brockton, MA – Today, United Way of Greater Plymouth County announced recently-enhanced features to MyFreeTaxes that allow most filers to complete their taxes in under one hour.
 
MyFreeTaxes.com is a safe, easy and completely free way for individuals or families earning less than $66,000 to file their federal and state taxes.
 
For the past nine years, United Way has partnered with H&R Block to provide free tax filing services for federal and state taxes in all 50 states and the District of Columbia. Since that time, the partnership has helped nearly a million people file their returns, bringing more than $1 billion in refunds back to local communities.
 
"Tax season is a source of confusion and stress for most Americans," said Dennis Carman, United Way of Greater Plymouth County President & CEO. "Many are worried they'll make a mistake, won't get their full refund or will pay too much.  With MyFreeTaxes, filers can get support from IRS-certified specialists and cut down the time it takes to complete their returns."
 
When it comes to advanced technology and personalized customer experience, H&R Block is among the industry leaders. MyFreeTaxes users get access to H&R Block premium product with enhanced features to ensure filers get every dollar they deserve:
• Ability to upload image of your W-2, allowing MyFreeTaxes to automatically fill in your information;
• Free, unlimited, personalized real-time chat and phone support in English and Spanish from IRS-certified specialists at 1-855-MY-TX-HELP. The helpline operates from January 22 through April 30, 2018 from 10:00 a.m. to 10:00 p.m. EST Monday through Friday, and from noon to 9:00 p.m. EST on Saturdays;
• Refund RevealTM shows filers how and why their refund amount is changing in real time; and
• Advanced functionality for those working in the gig economy or who need to include information regarding real estate investments, stock options or inheritance taxes.
 
Taxpayers earning less than $66,000 can enter their data through MyFreeTaxes.com, which links to a secure H&R Block website, making it easy to complete their taxes from home, at work or on mobile devices.
 
MyFreeTaxes is supported by United Way, and users can contact their local United Way for other local resources, or find ways to volunteer and further support their community. MyFreeTaxes comes with the same brand promise as all H&R Block's products: that consumers are guaranteed a maximum refund, 100 percent accuracy and 100 percent satisfaction. H&R Block's DIY products are based on 60-plus years of preparing income tax returns.
###
About United Way of Greater Plymouth County
Established in 1922, United Way of Greater Plymouth County's mission is "We unite people, ideas and resources to improve the lives of people in Greater Plymouth County."  United Way envisions a "a safe, healthy and well-educated community in which people's needs are met effectively, respectfully and compassionately" by focusing its resources on addressing the vital and interconnected needs of education, health and financial stability.  United Way serves the communities of southeastern Massachusetts, including the city of Brockton and the towns of Abington, Avon, Bridgewater, Carver, Duxbury, East Bridgewater, Easton, Halifax, Hanover, Hanson, Kingston, Lakeville, Marshfield, Middleboro, Pembroke, Plymouth, Plympton, Rockland, Stoughton, West Bridgewater, and Whitman.     
 
 
About H&R Block
H&R Block, Inc. (NYSE: HRB) is a global consumer tax services provider. Tax return preparation services are provided by professional tax preparers in approximately 12,000 company-owned and franchise retail tax offices worldwide, and through H&R Block tax software products for the DIY consumer. H&R Block also offers adjacent Tax Plus products and services. In fiscal 2016, H&R Block had annual revenues of over $3 billion with 23.2 million tax returns prepared worldwide. For more information, visit the H&R Block Newsroom.