Contact Person:
Dennis Carman
United Way of Greater Plymouth County
934 West Chestnut Street
Brockton, MA 02301
508 583-6306 ext. 205
FOR IMMEDIATE RELEASE
12/14/22
United Way of Greater Plymouth County's Annual Coat Initiative "Warmer Winters" Spread Warmth During Challenging Times  
Local United Way Raises $27,000 to Purchase Winter Coats for Plymouth County Youth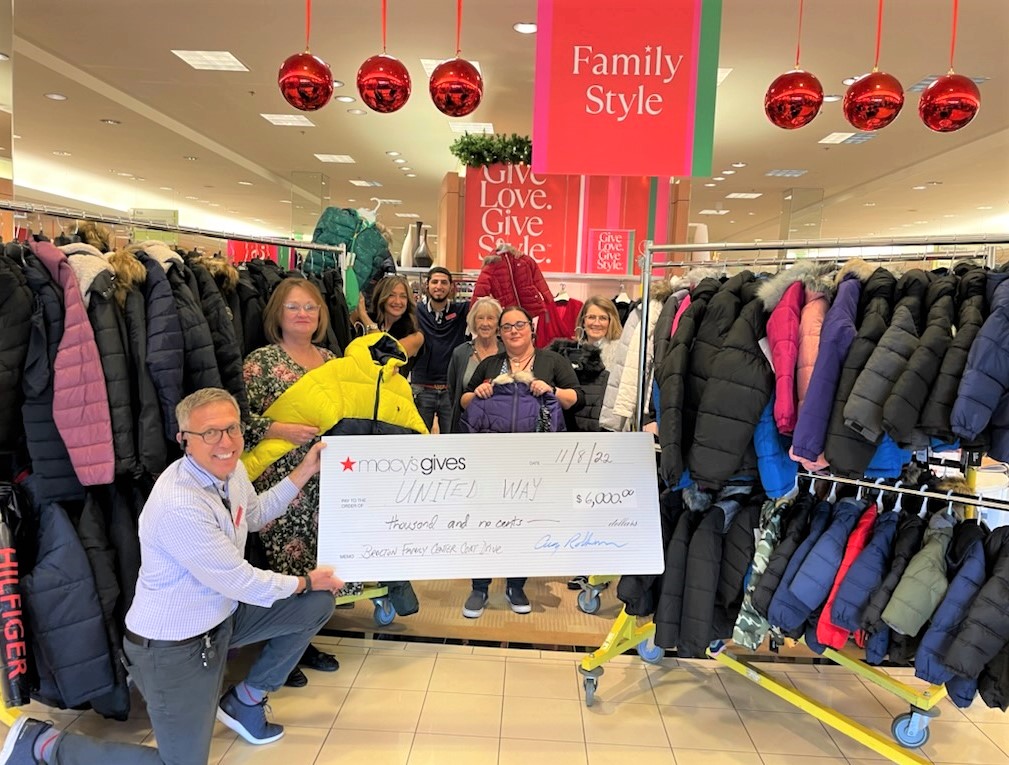 Macy's Kingston Collections staff gather in front of 118 Macy's Winter Coats for United Way's Family Center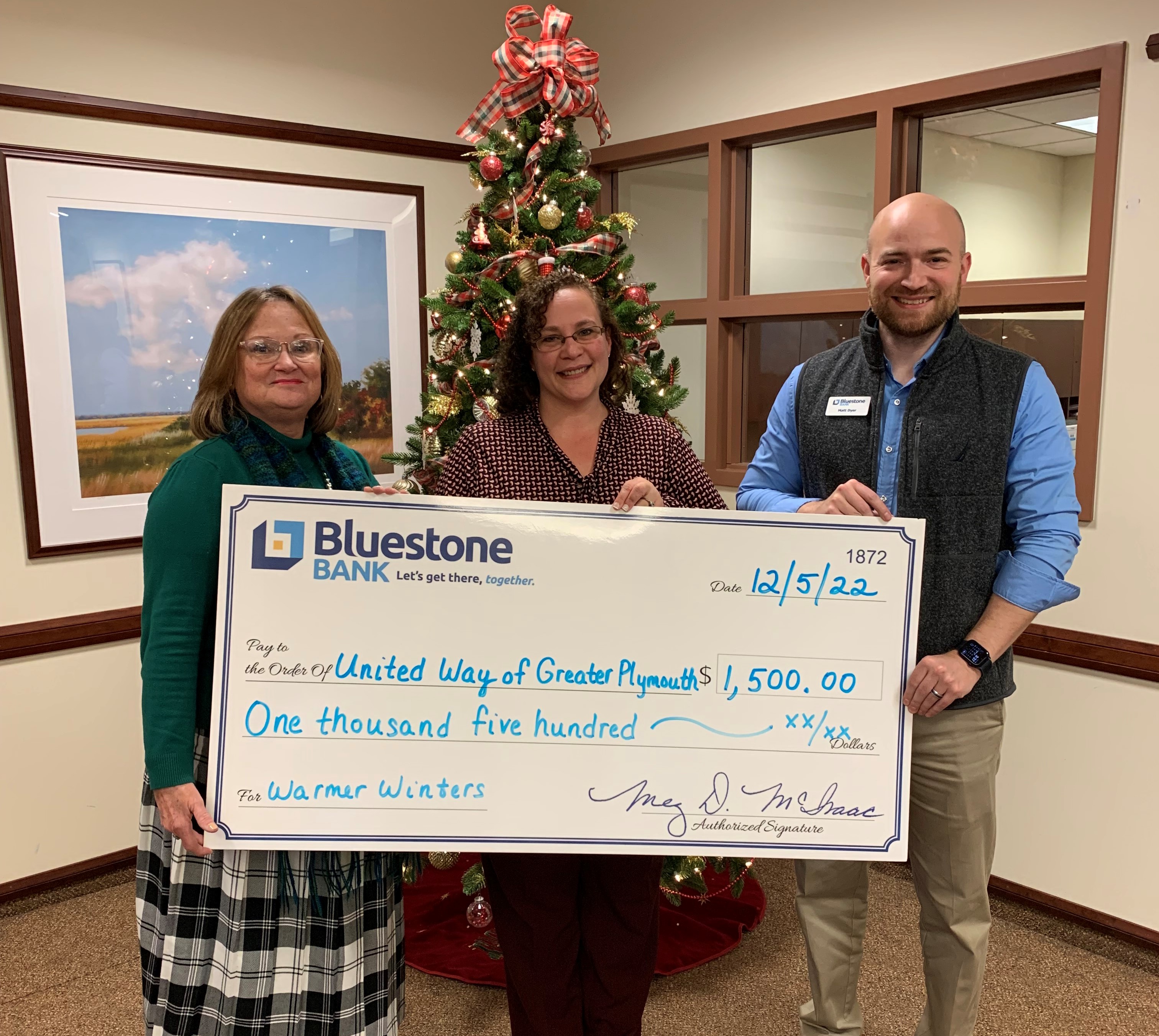 Bluestone Bank presents donation to United Way's Warmer Winters Fund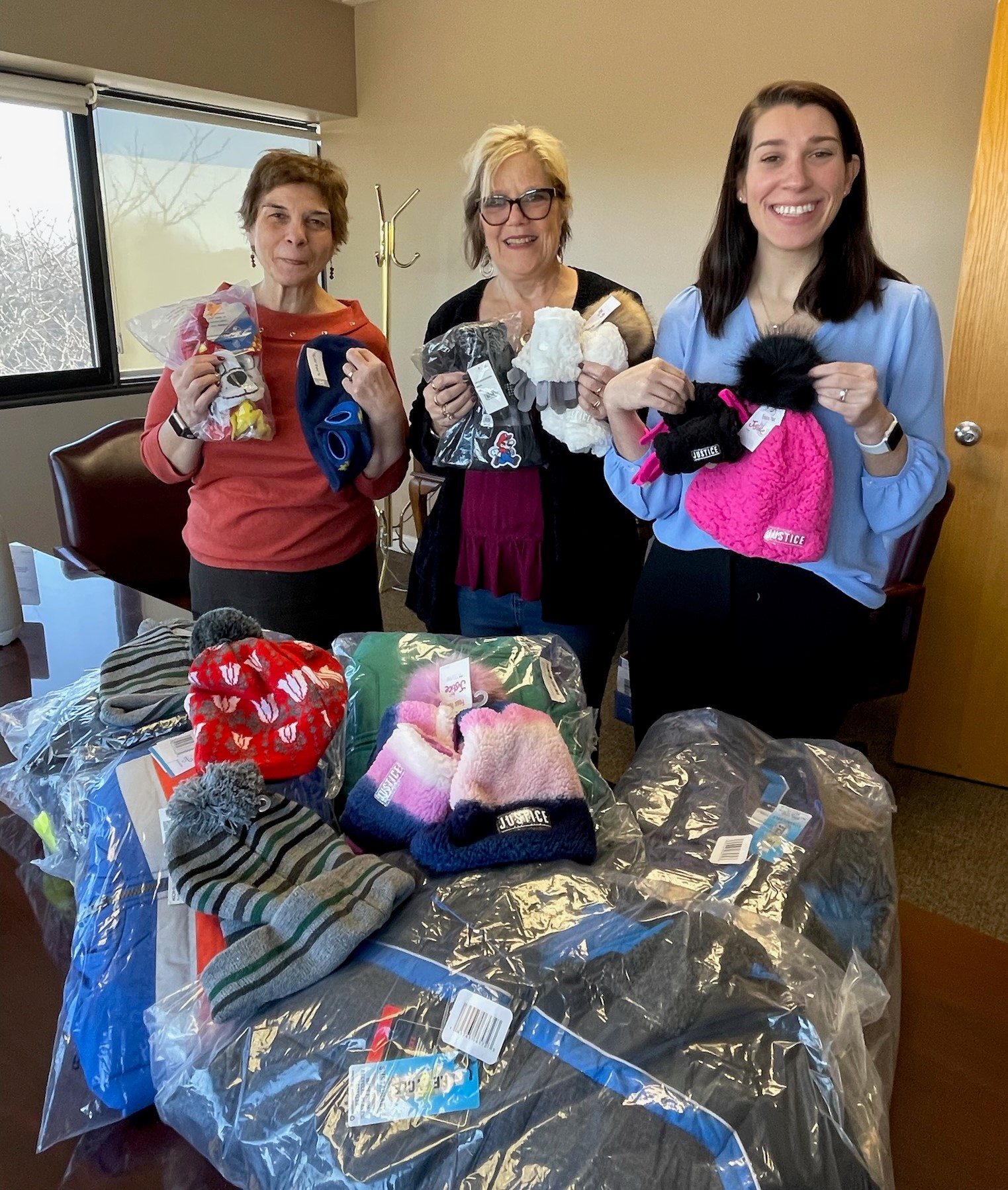 Lynch & Lynch donate needed warm hats, gloves, and coats
BROCKTON – United Way of Greater Plymouth County recently generated funds for its 8th Annual "United Way Warmer Winters" initiative to purchase warm jackets for local children in need in Greater Plymouth County. Since 2015, this initiative has helped over 2,530 children to keep warm.
Generous donations were received this year from Alissa Alley, Bluestone Bank, Colene Byrne, Karen Chapin and Carole Martyn in honor of their parents Richard and Claire Farley, Rosemary Healey, Jackson & Irene Golden Charitable Trust, Joe Kameese, Marie Kelly, Linda Kenney-Logan, Lynch & Lynch, Macy's, Michael McCarthy, Tracy Rosebrock, Ellen Rosenbaum, Rotary Club of Brockton, Shapiro Scott Foundation, Cheryl Showstack, The Pilgrim Foundation, and Whitman Homes. With funds from the Hurley Trust and with these compassionate donations, United Way was able to allocate $26,979 to help low-income children in Greater Plymouth County. 
"We all understand that it's been a tough few years. Many individuals and families are struggling daily- paying the weekly grocery store bill, making up for the learning lost during pandemic school interruptions, recovering from natural and man-made disasters. Our Warmer Winters fund is an annual demonstration that together with our community, we can lighten their load and make lasting change," said United Way President & CEO Dennis Carman, "Thanks to our generous donors and corporate partners, we are able to provide children with 675 new coats as winter approaches."  
The funds to purchase coats were donated to BAMSI's Helpline, Boys & Girls Clubs of Metro South, Brockton Day Nursery, Family & Community Resources, Father Bill's & MainSpring, Health Imperatives, Plymouth County Family Support, Quincy College Plymouth Campus, The Arc of Plymouth & Upper Cape Cod, and United Way's Family Center. 
To see more photos that will continue to be shared in United Way's Warmer Winters series, please visit www.facebook.com/uwgpc. 
###
About United Way of Greater Plymouth County
Established in 1922, United Way of Greater Plymouth County's mission is "We unite people, ideas and resources to improve the lives of people in Greater Plymouth County to build a stronger community."  United Way envisions a "a safe, healthy, diverse and welcoming community where everyone's needs are met equitably, respectfully and compassionately" by focusing its resources on addressing the vital and interconnected needs of education, health and income.  United Way serves the communities of southeastern Massachusetts, including the city of Brockton and the towns of Abington, Avon, Bridgewater, Carver, Duxbury, East Bridgewater, Easton, Halifax, Hanover, Hanson, Kingston, Lakeville, Marshfield, Middleboro, Pembroke, Plymouth, Plympton, Rockland, Stoughton, West Bridgewater, and Whitman.     www.uwgpc.org