Contact Person:
Dennis Carman, President & CEO
United Way of Greater Plymouth County
934 West Chestnut Street
Brockton, MA 02301
508 583-6306 ext. 105
FOR IMMEDIATE RELEASE
10/29/19
United Way Partnership Packs 18,518 Meals for Local Neighbors 
Fighting Hunger the United Way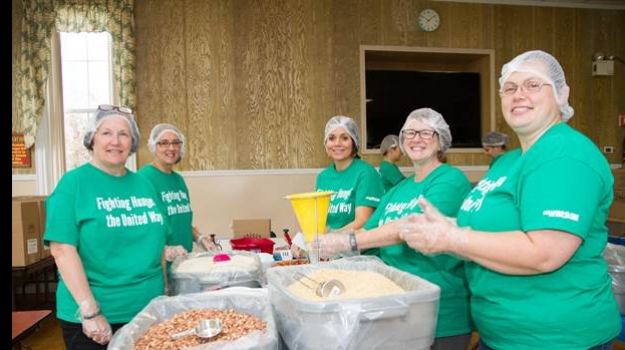 Volunteers work in an assembly line to pack emergency meals for local families in need
Abington, MA – On the morning of October 23rd, 60 volunteers gathered for a community meal packing event to "Fight Hunger the United Way" at the Abington American Legion Post 112.  The volunteers packed 18,518 heathy meals which were distributed to 11 local food pantries.  The event was generously sponsored by Sullivan Tire, working in teamwork with several organizations.  The American Legion kindly donated the space and United Way partnered with The Outreach Program in order to implement the mechanics of the food packaging process at the event.
Volunteers from 10 companies packed 18,518 meals in three varieties, macaroni and cheese, apple cinnamon oatmeal, and rice and beans, in under two hours time.  All of the meals are shelf-stable for two years, highly nutritious, and need only water and a stove top or microwave to prepare.  They are intended as "emergency" meals to be used by families in times of need.
"We are elated to be able to bring together a terrific group of volunteers to enthusiastically and efficiently package over 18,000 meals!" said United Way of Greater Plymouth County President & CEO Dennis Carman.  "The need is vast, and we are glad to help 'fight hunger the United Way' for our neighbors through this collaborative effort."
Volunteers joined the community meal packing from Brockton Area Arc, Family & Community Resources, FedEx, HarborOne Bank, North Easton Savings Bank, REXA, Rockland Trust Company, Signature Healthcare, The Well, and Whitman Food Pantry.  Local residents also lent a helping hand. 
Meals were distributed to 11 local pantries: Abington Food Pantry St. Vincent De Paul, BAMSI, Bridgewater State University, Brockton Area Arc, Brockton Healthy Families, Family & Community Resources, Health Imperatives, Rockland Food Pantry, Self Help Head Start, United Way's Family Center at Community Connections of Brockton, and the Whitman Food Pantry.
To see more photos, please visit United Way of Greater Plymouth County's Facebook page at
www.facebook.com/uwgpc
.
###
About United Way of Greater Plymouth County
Established in 1922, United Way of Greater Plymouth County's mission is "We unite people, ideas and resources to improve the lives of people in Greater Plymouth County."  United Way envisions a "a safe, healthy and well-educated community in which people's needs are met effectively, respectfully and compassionately" by focusing its resources on addressing the vital and interconnected needs of education, health and income.  United Way serves the communities of southeastern Massachusetts, including the city of Brockton and the towns of Abington, Avon, Bridgewater, Carver, Duxbury, East Bridgewater, Easton, Halifax, Hanover, Hanson, Kingston, Lakeville, Marshfield, Middleboro, Pembroke, Plymouth, Plympton, Rockland, Stoughton, West Bridgewater, and Whitman.